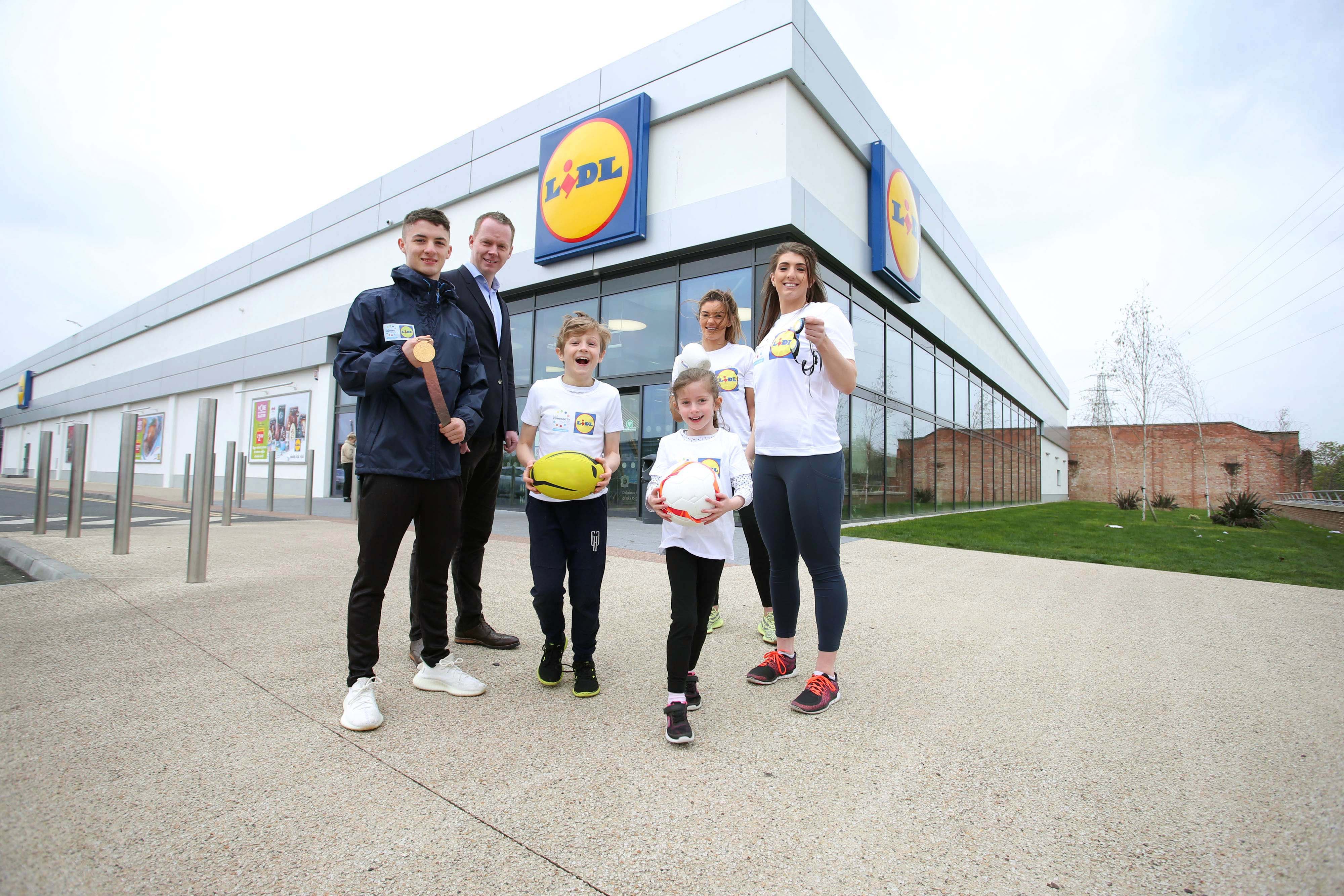 Lidl Northern Ireland launches new Sport for Good programme
Lidl Community Works Sport for Good programme will invest £160,000 into local youth sports clubs
Winning clubs will receive brand new training accessories and £4,000 to go towards new sporting equipment
Keep your Lidl receipt to nominate your club online by Thursday 30th May 2019
European gold gymnast Rhys Clenaghan, four-time Paralympic gold swimmer Bethany Firth and MMA gold medallist and Jiu Jitsu champion Leah McCourt joined Lidl Northern Ireland to help power a new generation of champions as part of a healthy new initiative – Lidl Community Works Sport for Good.
With more than one in four young people struggling with their mental health*, taking part in sport has been shown to have both physical and mental benefits for children, improving social skills, self-esteem, body confidence and the ability to deal with peer pressure. Lidl Northern Ireland's new Sport for Good programme is designed to encourage and support young people to make the most of the physical and mental benefits of sport participation.
The new Sport for Good programme means that hundreds of sporting clubs and organisations are in with a chance to win brand new training accessories as well as £4,000 to secure all the essential equipment they need to keep them on track and improve their game.
In total, the Lidl Community Works Sport for Good programme will invest £160,000 into 38 winning local clubs. With one winning club per store, Lidl Northern Ireland encourages shoppers to nominate their favourite youth sports club online. Customers can nominate their club using a 10-digit code from any Lidl receipt before Thursday 30th May 2019.
The Sport for Good initiative forms part of Lidl Northern Ireland's longstanding 'Community Works' programme which first launched in 2014. Committed to providing local support, Lidl Community Works has engaged with over 750 community groups to date.
Last year, Lidl Northern Ireland raised more than £420,000 for local charities and community groups, including its National charity partner NSPCC Northern Ireland
Conor Boyle, Regional Director for Lidl Northern Ireland, said:
"Our mission is to encourage young people to make the most of the physical and mental benefits when taking part in sports. We're honoured to be joined by three inspiring athletes to launch this significant initiative today which can help change and shape the lives of the younger generation. We would like to take this opportunity to encourage our customers to get involved and nominate their favourite club online using their Lidl receipt."
Welcoming the initiative, mixed martial arts champion Leah McCourt, said:
"Participating in sport is incredibly important for emotional and physical health. It can build confidence, leadership and social skills. Youth sporting clubs are vitally important for community life and I would encourage everyone to get behind the Sport for Good programme to give more young people the chance to experience the benefits which participation in sport can bring. It'll make a real difference."
To nominate a youth local youth club in your area, visit the dedicated Community Works page at https://www.lidl-ni.co.uk/en/lidl-community-works.htm before the closing date of Thursday 30th May 2019.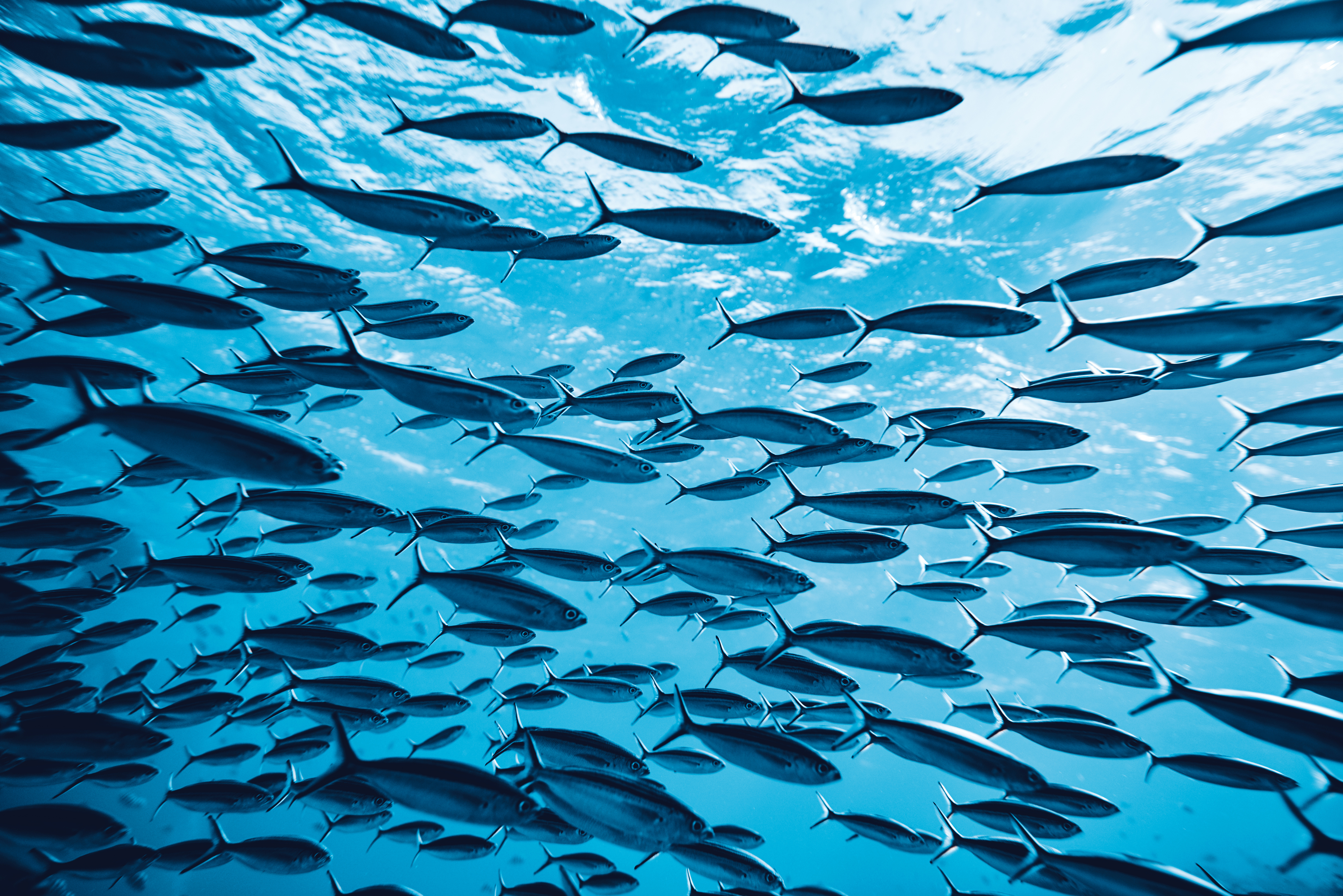 Lidl Ireland and Northern Ireland commits to 100% Responsibly Sourced Fish by the end of 2019
Lidl Ireland has committed to providing 100% responsibly sourced fish through its growing network of 159 stores across Ireland by the end of 2019.
33% of global fisheries have been fished beyond sustainable limits due to overfishing and illegal fishing. While the world's population continues to grow, it is expected that the demand for fish will continue to put further pressure on global fish stocks. Consumers have become increasingly aware of environmental and social issues in food supply chains and are adjusting their shopping habits to be more responsible with their purchases. With this in mind, in recent years Lidl has worked closely with suppliers to develop their responsible sourcing policies in many product categories including fish.
Already, 80% of wild caught chilled and frozen fish available at Lidl Ireland is certified to the Marine Stewardship Council (MSC*) standard. The MSC is an independent, non-profit organisation established to address the problem of unsustainable fishing and safeguard seafood supplies for the future.
At present, 65% of Lidl's farmed fish is sourced from independently certified sustainable fisheries (ASC* or GLOBAL G.A.P.*) – this will increase to 100% by the end of 2019. 100% of Lidl's canned tuna is already responsibly sourced using either the 'pole and line' fishing method, FAD-free (Fish Aggregating Devices) fishing methods or is MSC certified.
Commenting on Lidl's commitment, George Clark, Senior Commercial Manager UK & Ireland at the Marine Stewardship Council said: "It is fantastic to see such strong commitment to providing customers in Ireland with certified sustainable seafood. By offering a wide range of sustainable species and 80% of their current chilled and frozen wild range being MSC certified, Lidl is already providing consumers an excellent choice when in store. By choosing products with the MSC logo, Lidl shoppers are helping protect our oceans for future generations."
To meet this goal, Lidl has been working closely with their Irish suppliers, including Bantry-based Keohane's Seafoods. Lidl first began working with the family-owned business in 2012, enabling them to expand and grow their business. Seven years later, the company now has 160 employees across two facilities in Cork City and Bantry. Keohane's Seafoods supplies a range of products to all Lidl stores across Ireland and Northern Ireland. Earlier this year, Keohane's Seafoods signed a contract to supply packaged salmon darnes to 120 Lidl stores in the UK.
Mike Keohane, Managing Director, Keohanes's Seafoods said: "We have established a long term partnership with Lidl that has enabled us to develop our business and are proud to work closely with Lidl to ensure our seafood products are certified to sustainability programmes. We are also working with Lidl towards sustainable packaging including moving away from unrecyclable black plastic which will be hugely impactful."

Liam Casey, Commercial Director at Lidl Ireland said, "Safeguarding fish stocks for the future is an issue we are passionate about at Lidl and we are proud to be leading the way in the Irish retail market with our commitments. Our fish sourcing policy underlines our commitment to responsible sourcing through our certifications as well as our support for Irish Fishery Improvement Projects (FIPs) with Bord Iascaigh Mhara (BIM). We have also joined the Global Ghost Gear Initiative (GGGI)*, a global cross-sectoral alliance committed to driving solutions to the problem of lost, abandoned and otherwise discarded fishing gear (also known as "ghost gear"), which accounts for about 10% of plastic pollution in the sea. We look forward to making further progress with the wider sector in our collective aim to drive transparency and safeguard fish stocks for the future."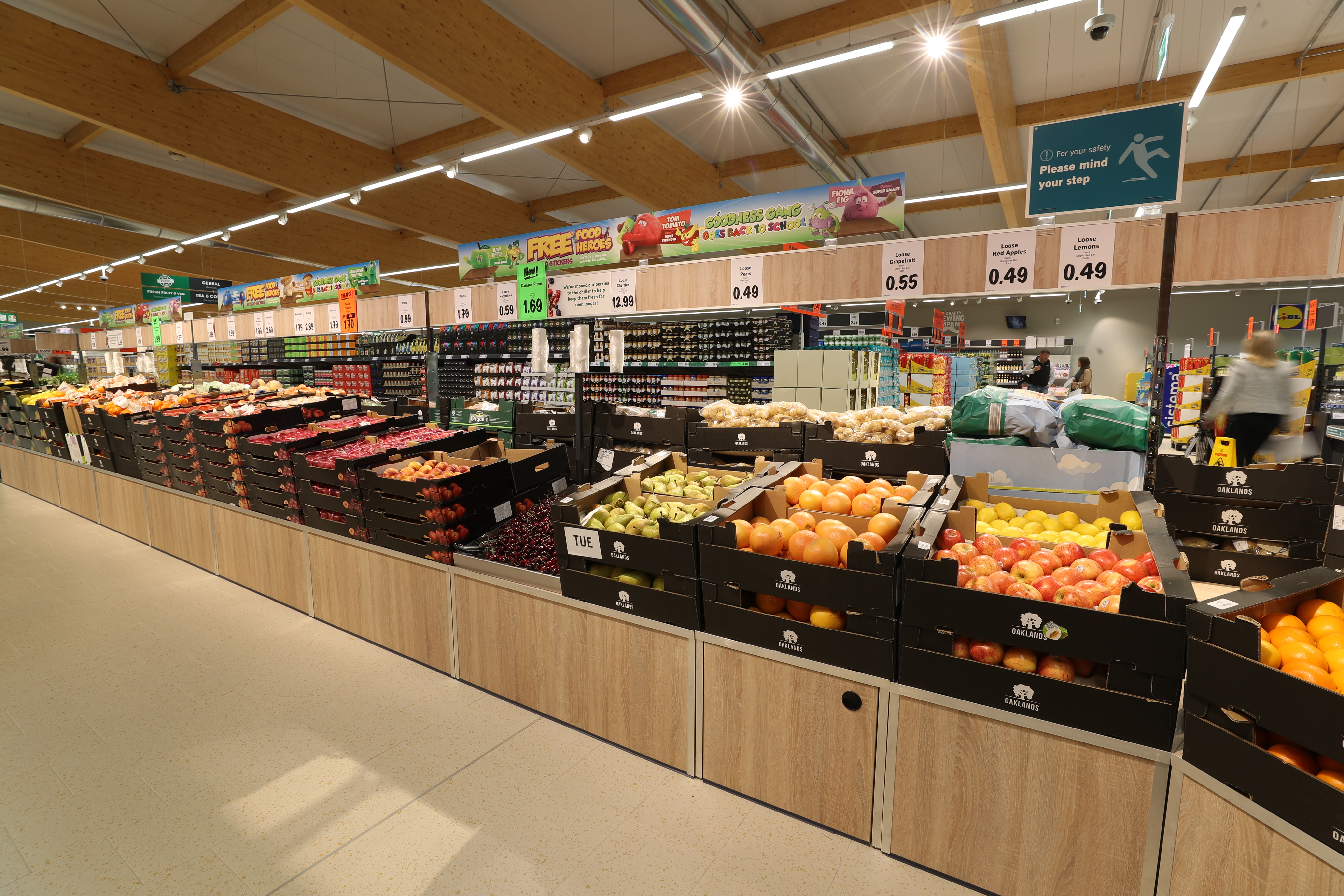 Lidl Ireland and Northern Ireland Scraps Unrecyclable Black Plastic Packaging
Monday October 8th – Lidl confirmed today it is removing black plastic packaging from its entire fruit and vegetable range across all 195 Ireland and Northern Ireland stores before Christmas.
The packaging, which cannot be recycled, will be scrapped from fresh fish products by February 2019, followed by fresh meat, poultry and cured meat ranges before August.
Black plastic packaging is not recycled in Ireland or the UK because recycling sorting systems cannot detect the carbon black pigment.
As a result of this move by Lidl, over 65 tonnes of black plastic waste will be avoided annually from fruit and vegetables alone.
Lidl, named Ireland's 'Green Retailer of the Year 2018', said it has also today scrapped the sale of single-use plastic items including drinking straws, disposable plates, cups and cutlery, with plastic-stemmed cotton buds next on the list in the coming months. The single-use plastic items are being replaced with biodegradable alternatives.
No other supermarket on the island of Ireland has committed to such firm and imminent commitments in relation to either type of plastic.
"These are significant steps," Lidl Ireland & Northern Ireland Managing Director, J.P. Scally said. "Sustainability is core to our business and we are proud to continue leading the retail sector in implementing ambitious measures which will deliver real and lasting benefits for everyone."
The move is one of many steps that the retailer is taking as part of its plastic reduction strategy.   Already this year the company confirmed it had achieved 'zero waste to landfill' and announced a ban on microbeads in all cosmetic and household ranges.
It also published several ambitious plastic reduction targets, including using 20% less plastic packaging by 2022 and having 100% recyclable own-brand packaging by 2025.
Lidl will also continue to trial more unpackaged fruit and vegetable options – the recent addition of 17 new loose items means that more than 25% of its fresh produce range is now package-free.
The new measures reinforce Lidl's award-winning track record on sustainability. This October, Lidl Ireland was awarded the coveted 'Outstanding Achievement in Corporate Social Responsibility' at the Chambers Ireland CSR Awards, while Lidl Northern Ireland won the 'Excellence in Corporate Social Responsibility' award at the 2018 Belfast Telegraph Business Awards.
"These announcements are a clear signal of our commitment to safeguarding the environment and to managing our operations in the most progressive and sustainable way possible. It's important and right that we act decisively and proactively in this area and take meaningful and measurable steps that matter to us, our customers and our communities," J.P. Scally said.
Timber and Wood-Based Products
Timber and wood-based products come from forests, the world's largest and most important ecosystem.
Unfortunately, many forest are under threat of deforestation and degradation from forest fires, unsustainable logging for timber, clear-cutting for agriculture, ranching and development. At Lidl, we want to ensure that our timber and wood-based articles, viscose fibres and packaging are sourced responsibly. Our goal is to ensure we minimise our environmental and social impact by sourcing from sustainably managed woods, certified labels and from recycled materials.
Our Commitments
By 2020 all our own-brand wood and paper-based products will be from either recycled wood fibre sources or FSC or PEFC certified sources
By 2020 all our own-brand textiles that contain viscose will be LENZING ECOVERO and EU Eco label certified
By 2025, we aim to source all primary, secondary and tertiary packaging from either FSC, PEFC and/or recycled sources
Plants and Flowers
Ireland's climate provides ideal growing conditions for a large range of garden and landscape plants, however the flowers and plants industry is global. Most of the plants come from the Netherlands and from countries where climate conditions are more favourable for growing all year around such as Colombia, Ecuador, Kenya and Ethiopia.
We want our buying power to drive positive change for producers, communities and the environment. We work with internationally recognised certifications to ensure that our products are produced with best practices ethically and environmentally.
Our Commitment
By 2020, we commit to source 100% of our flowers and plants certified to environmental (GLOBAL.G.A.P, Bord Bia's Onamental Standard, BOOP) and to social standards (Fairtrade, GLOBAL.G.A.P Grasp module, SA 8000).
Human Rights & Ethical Trade
To ensure we are upholding the rights of people impacted by our business and continually driving improvements, we have adopted a range of approaches and have integrated our targets across the business.
We underpin our business operations with strong, long term relationships, making sure that we work with our suppliers to address any challenges they may face. Our core standards are outlined in our Supplier Code of Conduct, which is fundamental to the relationship between Lidl Northern Ireland and its contracted Business Partners. It defines the social expectations of all global direct and indirect suppliers and forms an integral part of our commercial contracts.