JAM Card Friendly Retailer
The Just A Minute (JAM) Card allows people with a learning difficulty, autism or communication barrier to tell others they need 'Just A Minute' discreetly and easily in customer service situations. As the first Irish Retailer to become JAM Card Friendly, we want to welcome all JAM Card users to shop at ease in our stores and are supporting our colleagues to recognise the card to make our customers' shopping experience as stress-free as possible.
Learn more
---
NSPCC Northern Ireland
We are proud to be official charity partner with NSPCC Northern Ireland. Over the course of this partnership, we aim to raise vital funds which will help ensure the charity reaches children across Northern Ireland with crucial services, support and advice on how to stay safe from abuse.
The NSPCC Northern Ireland is the leading children's charity fighting to end child abuse. We are raising vital funds for programmes like the Speak out. Stay Safe. school programme. These funds will help the charity reach children in every primary school across Northern Ireland with its programme of interactive assemblies and workshops, aiming to give a generation of children the knowledge and understanding they need to stay safe from abuse and neglect.
We know the difference these programmes can make, so join us in the fight for every child.
---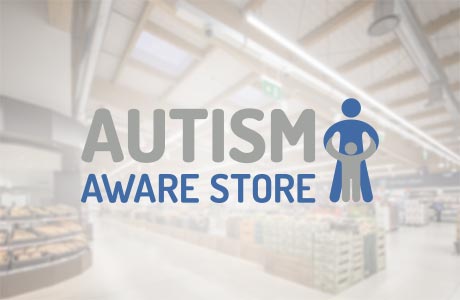 Autism Aware Stores
In Northern Ireland, statistically, more than 1 in 40 people live with autism. Between the bright lights, crowded spaces, noise and sensory overload, grocery shopping can sometimes be a very  stressful task for people with autism.
With this in mind, we have organised "Autism Aware Quiet Evenings" in each of our stores to help people and families who may struggle with the weekly shop run.
These Autism Aware Quiet Evenings will take place weekly, on Tuesdays from 6pm to 8pm, offering our customers a more comfortable shopping experience.
Learn more
---
Food Redistribution
Globally, 1.3 billion tonnes of food fit for human consumption is wasted each year.
In an effort to tackle food poverty while supporting our local communities, we partnered with FoodCloud to develop our food redistribution programme. Through our partnership, we have built a network of more than 320 charity and community groups, from disability support services to afterschool clubs to homeless charities, which we support with regular food donations from our stores and warehouses. Not only do our donations enable our partnered charity and community groups to provide their members with nutritious meals, they also benefit from substantial savings on food costs which they can reallocate back into their core services.
To date, we have donated more than 615 tonnes of surplus food which otherwise would have gone to waste. This is the equivalent of over 1.3 million meals saving our partnered charity and community groups a combined total of over €1.8 million.
0
charity and community groups
---
Voucher Donation Fund
We are committed to offering support to those in our local communities who espouse the values we hold dear. We are proud to support local charities and community groups who promote social inclusion, health and wellbeing and environmental programmes. Where a local community group is hosting a community event or fundraiser which mirrors our values and pillars, we are happy to provide Lidl vouchers to support. These vouchers have been used by hundreds of community groups and charities across the country for raffles, bake-sales, school healthy eating weeks, science projects and sports programmes.
---
Lidl Community Works Sport for Good
1 in 4 local young people struggle with their mental health in Northern Ireland (Mental Health Foundation's Fundamental Facts for Northern Ireland, October 2018), a very worrying statistic for any parent or guardian to hear. Taking part in sport has been shown to have both physical and mental benefits for children. Participating in sports and playing in teams provides children with a life-long support system of friends and mentors and can improve their social skills, self-esteem, body confidence, and ability to deal with peer pressure.
That's why we have launched the Lidl Community Works Sport For Good programme. Our mission is to encourage young people to make the most of the physical and mental benefits of taking part in sports so they can have a healthy body and mind. For more click here.
Lidl Community Works So Far…
---